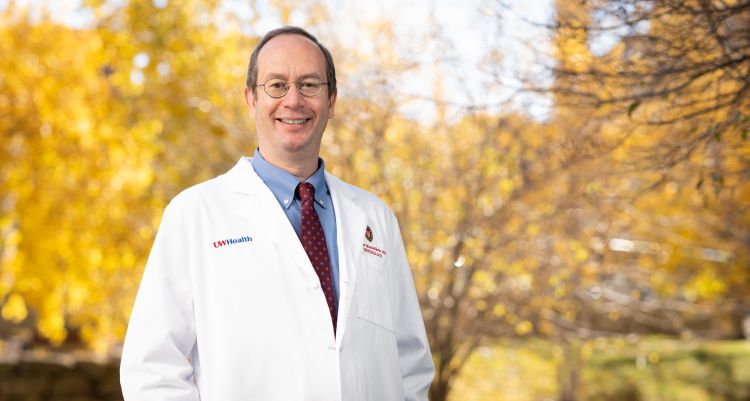 Jeff and Lynn Bakiares' remarkable relationship with Didier Mandelbrot, MD, professor, Nephrology—and their overwhelmingly positive experiences with the UW Health kidney transplant program overall—has resulted in the creation of a new endowed professorship.
Thanks to a generous gift from Jeff and Lynn Bakiares through the Virginia Lee Cook Foundation, and matching funds from this year's Morgridge Match, Dr. Mandelbrot now holds the Virginia Lee Cook Professorship in Transplant Nephrology.
The professorship supports Dr. Mandelbrot's scholarly work in transplant medicine, including research on new methods for immunosuppression, treatments for post-transplant viral infections, and living donation for kidney transplantation.
'We Hit It Off on Day One'
Jeff and Lynn first met Dr. Mandelbrot in September 2014, shortly after Jeff's successful kidney transplant at UW Health—for which Lynn was the living donor.
The Chicago couple had chosen the UW Health transplant program after learning that it ranked better nationally than any program they had previously contacted, and had shorter wait times.
From their first phone call, they knew they had found the right place. "We were impressed with everyone from the reception desk on," said Lynn. "It was amazing."
"The care from everyone—the doctors, interns, nurses, staff, everyone—was phenomenal," echoed Jeff.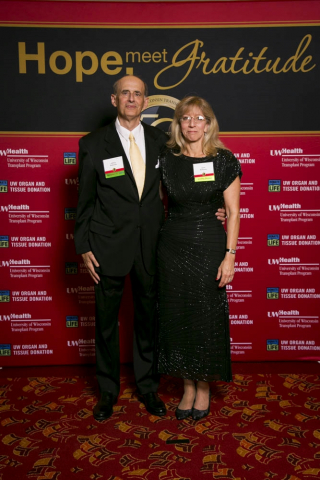 Above, Jeff and Lynn Bakiares at the UW Health transplant program's 50th anniversary gala in 2016.
For follow-up care, the transplant surgeon thought Dr. Mandelbrot would literally be a "good match" for Jeff, a commodities trader with an admitted Type A personality, photographic memory and intense interest in research.
"We hit it off with Didier from day one," Jeff said, remembering how he would relay key facts and dates about his health faster than Dr. Mandelbrot could look them up in his electronic health record. In time, he began sharing journal articles at every clinic visit and began talking more deeply with Dr. Mandelbrot about his research.
"He is a great teacher, and he said to me, 'This is what being a doctor is all about: the interplay and exchange of ideas between patient and doctor,'' Jeff recalled.
Research on Immunosuppression and Viral Infection
Dr. Mandelbrot's research on immunosuppression protocols and the treatment of viral infections particularly resonates with Jeff.
Like every transplant recipient, Jeff must take medication to prevent his body from rejecting his new kidney. Despite having overall good health and being on the lowest possible doses of anti-rejection drugs, Jeff still experiences side effects from those medications. The medications also impede his body's ability to fight viral infections that commonly occur in transplant recipients.
Dr. Mandelbrot's research on ways to modify the dosages of anti-rejection drugs, while still treating existing viral infections, has helped improve Jeff's quality of life considerably.
Jeff is also inspired by Dr. Mandelbrot's desire to bring together more people like his wife Lynn, who have gone through the experience of being a live kidney donor, with people who are considering becoming live donors themselves.
A Gift in a Friend's Name
Propelled by their respect for and friendship with Dr. Mandelbrot—and their continued deep appreciation for the UW Health transplant program—Jeff and Lynn were proud to support a new named professorship in Dr. Mandelbrot's honor.
The Virginia Lee Cook Professorship in Transplant Nephrology is named for Virginia Lee Cook, a family friend with whom Jeff became very close in the last few years of her life.
Before she died, Jeff helped establish a foundation to carry on philanthropic efforts in her name. This professorship is its first major named gift.
The Doctor at the Top of the List
Today, Jeff and Lynn spend most of their time together staying active at their Chicago home: walking their two golden retrievers, enjoying the company of their four adult nieces and nephews and staying in close contact with Jeff's 87-year-old mother in Twin Lakes, Wisconsin.
Lynn, a former trade show business development executive who moved from New York to Chicago 22 years ago, is an avid pianist, while Jeff, who she describes as a "fireball of energy," cooks and reads constantly.
When Jeff goes to his local hospital for routine blood work, he sometimes meets physicians and patients who know and respect Dr. Mandelbrot, including one physician who studied under him at Harvard.
He and Lynn continue to be impressed by Dr. Mandelbrot's expertise, desire to improve patient outcomes, and down-to-earth nature.
"He's as genuine, compassionate and caring a man as I've ever met," Jeff said. "I've been to a lot of doctors over the last eight years and he's at the top of the list. I don't mind driving 140 miles to see him."
Banner photo, Dr. Didier Mandelbrot, who now holds the Virginia Lee Cook Professorship in Transplant Nephrology. Credit: Clint Thayer/Department of Medicine