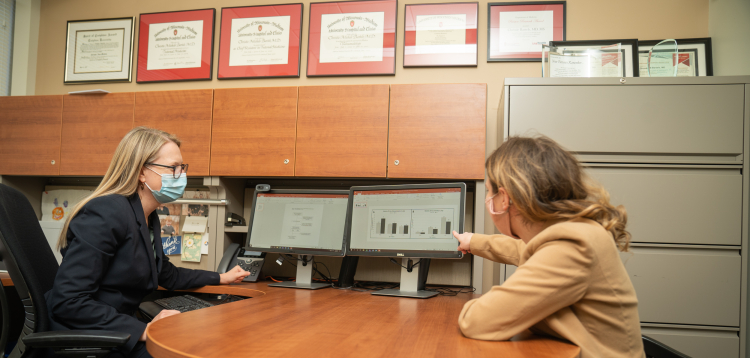 As a third-year medical student, Maria Schletzbaum, an MD/PhD candidate at the University of Wisconsin School of Medicine and Public Health, cared for a young woman with lupus who was around her own age. Through two hospitalizations, Schletzbaum connected with this young woman, learned about her life, and how lupus was impacting it. She then learned that young adults with lupus, like this patient, may be facing unique challenges to healthcare.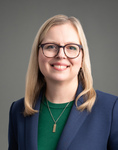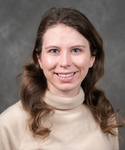 To better understand what she had observed, Schletzbaum reached out to her inpatient attending, Christie Bartels, MD, MS, associate professor, and division chief, Rheumatology, about conducting research on how adolescents and young adults with lupus engage with healthcare. 
Now, Schletzbaum and Dr. Bartels are leveraging each other's strengths and Department of Medicine research tools to understand the disparities that impact care retention—when patients continue to have provider visits and laboratory tests as needed—in adolescents and young adults with lupus.
"About 20% of the population that has lupus present as kids, and they have worse outcomes overall, so it's a really important population to think about," Dr. Bartels says.
Health Disparities in Young Adults
Systemic Lupus Erythematous (SLE or lupus), is a chronic disease that does not affect everyone equally. SLE is a leading chronic disease cause of death in young women, particularly women of color, and puts young adults with SLE at a 20 times higher risk of dying prematurely compared to their peers.
While younger adults are often thought of as being healthier, and less at risk for health concerns, they tend to face a unique set of challenges in health care, such as lower engagement and difficulties navigating the healthcare system, including transitioning from pediatric to adult providers.
"For patients with lupus, because it's a chronic disease, it's important to keep them constantly in care and engaged with their healthcare so their disease can be managed and kept under control," Schletzbaum says.
In other chronic diseases, like HIV, low care retention has been associated with disparities and worse health outcomes for patients. Building on Bartels' work in adult lupus patients showing retention gaps, Schletzbaum hypothesizes that care retention may play a role in adolescent lupus outcomes, as well.
Dr. Bartels explains that understanding what factors impact care retention will help "improve health equity by keeping patients in care, re-engaging patients in care, and designing interventions that can be studied."
Leveraging Local Tools
Schletzbaum and Dr. Bartels will use resources from the Health Services and Care Research (HSCR) Program, led by Amy Kind, MD, PhD, associate professor, Geriatrics and Gerontology. Specifically, they will leverage the Area Deprivation Index to account for over 20 indicators of disparities, whether neighborhood patients have jobs, housing, and access to transportation, as well as examining distance to clinic. These tools will help the researchers get a robust measure of what impacts care retention.
A five-step Care Continuum led to measuring care gaps and developing interventions to reduce these disparities in HIV patients. With Dr. Bartels' adaptations to the model, Schletzbaum believes it can be successful for closing the care gaps in young adults with lupus, too.
"In theory, if we can keep them in care longer, there will be better health outcomes," Schletzbaum says.
This work is part of an F30 National Institutes of Health/National Institute on Minority Health and Health Disparities grant: Investigating the Role of Care Retention in Lupus Disease Outcomes and Disparities in Young Adult and Pediatric Patients.
Banner photo, Christie Bartels, MD, MS, associate professor, Rheumatology, and Maria Schletzbaum, MD/PhD candidate, Rheumatology, review their research. Credit, Clint Thayer/Department of Medicine.