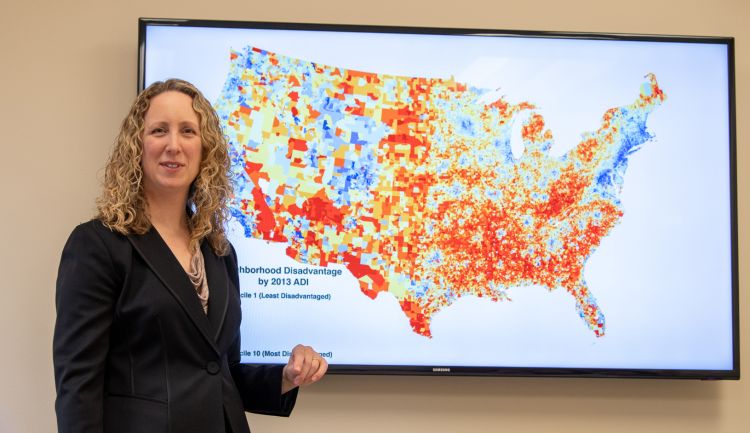 Research by Amy Kind, MD, PhD, associate professor, Geriatrics and Gerontology, that shares measures of socioeconomic disadvantage at the neighborhood level is now influencing policy on fair allocation of medications to treat patients with COVID-19.
The Neighborhood Atlas, developed by Dr. Kind's team and launched in 2018, shares metrics from the Area Deprivation Index (ADI), which includes factors on income, education, employment, and housing quality.
The tool is designed to help educational institutions, health systems, not-for-profit organizations, researchers, industry and government agencies create more effective interventions, research programs and policies that account for neighborhood disadvantage—a fundamental determinant of poor healthcare outcomes.
Recently, a team led by Douglas B. White, MD, MAS, vice chair and professor of Critical Care Medicine, the Endowed Chair for Ethics in Critical Care Medicine, and the director of the Program on Ethics and Decision Making in Critical Illness at the University of Pittsburgh School of Medicine, used the Neighborhood Atlas and ADI as part of an strategy to mitigate the disproportionate impact of COVID-19 on disadvantaged communities. The strategy has recently been adopted in the official allocation policy of the Commonwealth of Pennsylvania.
Specifically, Dr. White developed an allocation framework for Remdesivir and other scarce COVID-19 medications with the goal of enhancing medical benefit for communities, ensuring meaningful access and individualized assessments for all patients, avoiding discrimination, and mitigating disparities in outcomes due to social inequalities.
That framework calls for a weighted lottery or a categorical reserve system to fairly allocate drug supplies if there is insufficient supply to treat all eligible patients.
In that lottery, individuals from disadvantaged areas, defined as residing at an address with a state-level ADI decile score of 8 to 10, and essential workers, defined by the state's list of essential businesses that are required to continue physical operations during the pandemic, would receive higher priority.
On June 2, 2020, the Commonwealth of Pennsylvania released its guidance for the ethical allocation of scarce COVID-19 medications. That guidance includes the University of Pittsburgh framework—and its inclusion of the ADI as a factor in a weighted lottery—as an example of a model allocation policy.
"We are thrilled that the Neighborhood Atlas is part of this framework and is being included in policy recommendations that will help ensure equitable allocation of medications in communities disproportionally impacted by COVID-19," says Dr. Kind.
Resources
Banner photo: Dr. Amy Kind with a display of the Neighborhood Atlas map, which provides a representation of socioeconomic disadvantage by neighborhood. A team at the University of Pittsburgh used the tool in a policy recommendation for fair allocation of medications for patients with COVID-19. That recommendation has now been enacted by the Commonwealth of Pennsylvania as official policy. Credit: Clint Thayer/Department of Medicine