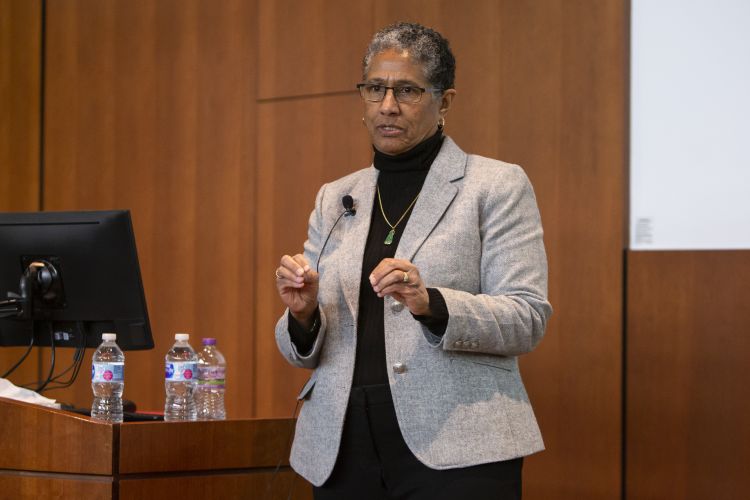 Conversations buzzed throughout the second-annual Diversity Summit hosted by the University of Wisconsin School of Medicine and Public Health (SMPH) in January 2019. More than 600 attendees filled the largest hall in the Health Sciences Learning Center and prompted the need for an overflow room.
Welcoming the guests, Brian E. Gittens, EdD, the associate dean who launched this program, emphasized the event's inclusive nature by saying, "Who is this Diversity Summit for, and about? Look to your left; look to your right. It's for all of us."
Dean Robert N. Golden, MD, described ongoing efforts aimed at increasing equity, diversity and inclusion at the SMPH, throughout medicine and public health, and across Wisconsin and beyond. He emphasized that there is much more terrain to cover, but that it's valuable to laud the breadth and strength of ongoing endeavors. These include teaching, research and service initiatives of the Collaborative Center for Health Equity; community and career development work by the Native American Center for Health Professions (NACHP); health equity grant programs of the Wisconsin Partnership Program; the public health emphasis of the ForWard Curriculum; a new outreach program, The Ladder, which encourages diverse K-12 students to explore medical fields; and the schoolwide Building Community climate initiative for faculty, staff and learners.
"We should acknowledge our progress while continuing to do the hard work of looking within and identifying opportunities to accelerate our movement toward our ultimate vision," noted Golden.
Celebrating Health Equity Leaders
To recognize accomplishments of SMPH faculty and staff who have dedicated themselves to eliminating health disparities, school leaders honored three individuals and one organization with 2019 SMPH Diversity Awards. They are third-year medical student Nnenna Ezeh; outreach specialist Fabu Carter, MA, Geriatrics and Gerontology; Bret Benally Thompson, MD, Hematology, Medical Oncology and Palliative Care and Department of Family Medicine and Community Health; and the NACHP.
Ezeh, who is studying in the Training in Urban Medicine and Public Health (TRIUMPH) program, received the 2019 Diversity Student Award. She coordinated the student-run MEDiC Clinic for underserved pediatric patients and their families and served as co-president of the Student National Medical Association. She is a member of the SMPH Health Equity Task Force and the Class of 2020 equity and diversity representative of the Medical Student Association. She also conducts research on the effects of smoking on patients with lupus and is working on a project to assess the impact of community health workers in Milwaukee.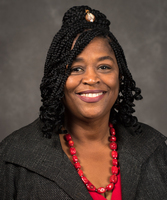 Carter (pictured at right), an outreach specialist in the Department of Medicine and the Alzheimer's Disease Research Center (ADRC), received the 2019 Diversity Award for a staff member. She recruits African Americans into the ADRC Clinical Core and volunteers in the SMPH Diversity and Inclusion Advocate Program. In 2016, she was honored as a UW-Madison Outstanding Woman of Color. A scholar of African American literature and past poet laureate of the City of Madison, she has published poetry books and won an Outstanding Achievement in Poetry Award from the Wisconsin Library Association. She also volunteers in local nursing homes leading the Alzheimer's Poetry Project.
Dr. Benally Thompson (pictured at right) is a clinical assistant professor in the Department of Medicine's Division of Hematology, Medical Oncology and Palliative Care, and the Department of Family Medicine and Community Health.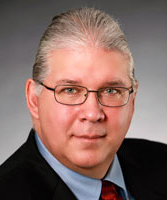 He received the 2019 Diversity Award for a faculty member. Dr. Benally Thompson is the medical director at UnityPoint Health-Meriter Hospital and is active in several organizations dedicated to improving and advancing health in Native American students and communities. This includes his membership in the American Indian Science and Engineering Society—for which he serves on the Elders Council—and the American Indian Cancer Foundation.
Dr. Benally Thompson also serves on the advisory council of the NACHP, which received the 2019 Diversity Organizational Award. The NACHP connects UW-Madison with Wisconsin's tribal governments and urban Native communities. It hosts an annual lecture series by an indigenous health care provider, focuses on improving the health and wellness of American Indian people and supports the career development of Native American clinicians.
Sharing a Sobering Message
The evening's highlight was the keynote lecture, "The Impact of the Intersectionality of Gender, Race and Class on Academic Medicine," by Denise Rodgers, MD, vice chancellor for interprofessional programs at Rutgers Biomedical and Health Sciences. She is the Hunterdon Chair in Interprofessional Education at Rutgers Robert Woods Johnson Medical School, where she is a professor in the Department of Family Medicine and Community Health.
"Dr. Rodgers has spent her career working with poor, minority and disadvantaged patients and their communities … and led a nationwide pact of family medicine educators who promised not to teach about health disparities anymore without talking about the impact of racism as a critical social determinant of health," commented Jennifer Edgoose, MD, MPH, associate professor (CHS), Department of Family Medicine and Community Health. Dr. Edgoose and Melissa Metoxen, MS, community and academic support coordinator in NACHP, were each named as a UW-Madison Outstanding Woman of Color for 2018-19.
Dr. Rodgers discussed a widely publicized 2017 research article in which analysts from the National Institutes of Health (Shiels, MS, et al.) identified demographic patterns in premature mortality, dubbed "deaths of despair" due to drug poisonings, suicide, and alcohol-related chronic liver disease and cirrhosis. Media coverage fixated on a rise in premature mortality among white individuals between 1999 and 2014, but largely omitted that premature mortality also increased for American Indians and Alaska Natives.
"In fact, during the 2011 to 2014 period, American Indians and Alaska natives had the highest mortality in the United States, followed by blacks," said Dr. Rodgers.
She reviewed U.S. data on health outcomes that show profound discrepancies by race, gender and income. These factors are tightly interconnected, she explained. The statistics hit hard, and they start at birth—the infant mortality rate for African Americans in Wisconsin is the highest in the nation—and continue through adolescence.
"Life expectancy for American Indian adolescents is eight years less than for Asian females and 10 years less for males," she noted, adding that, through adulthood, "African Americans have the lowest life expectancy by race in the United States, and in Wisconsin, American Indians are lowest, followed closely by African Americans."
Data also indicate that gender and race intersect in discouraging ways. For example, bearing a child in the United States carries a higher mortality risk than any other developed nation, with 1,200 fatal complications and more than 600,000 near-fatal complications of pregnancy each year, with racial and ethnic gaps evident.
While showing a graph of rising maternal mortality since 1990, she shared, "I don't think there are any of us in health care or public health who can look at this graph and feel good about what we're doing."
Next, Dr. Rodgers showed a closer, even more troubling look at infant mortality.
"The greatest disparity in infant mortality by race is between college-educated black women and college-educated white woman. An African American woman with an advanced degree has an infant mortality rate that's higher than the rate for a white woman with an 8th-grade education," she said. "Education and income are somewhat protective, but clearly not enough."
It's essential to identify what is happening, as well as why it's occurring. "What are some causes of these disparities? We cannot begin to have that conversation without talking about social determinants of health," noted Dr. Rodgers.
Chief among these determinants is poverty, which—in the United States—is tightly linked to race. Socioeconomic class is the driving factor underlying many, if not most, health inequities, she explained.
"If we look at family wealth by race and ethnicity, we see that Latino and African Americans are more likely to be poor compared to their white counterparts," said Dr. Rodgers.
Moreover, when comparing life expectancy of the bottom 10th percentile and top 10th percentile of earners, there is a marked discrepancy: a nine-year gap for men, and an eight-year gap for women. Dr. Rodgers reviewed recent work on the pathophysiology of toxic stress that is sparked by chronic poverty. "Poverty itself is an adverse childhood experience," she said, noting that living in a society with high levels of structural racism is linked to poorer health outcomes, as well.
For an overview of institutionalized, personally mediated and internalized components of racial climate, Rodgers recommended a framework described in the article "Levels of Racism: A Theoretic Framework and a Gardener's Tale," published in the American Journal of Public Health in 2000 by Camara Phyllis Jones, MD, MPH, PhD.
The essential question for society, said Rodgers, is exemplified in a quote by the Rev. Dr. Martin Luther King, Jr., just days before his death: "There is nothing new about poverty. What is new is that we now have the techniques and the resources to get rid of poverty. The question is whether we will."
Rodgers issued a call to action for health care providers to tackle these issues.
"We must raise our voices in saying that this is not just a high moral theoretical thing, but this is a thing—poverty—that affects health. And we must do something about it," she urged, sparking a standing ovation.
Conceptualizing Change
Panel discussions evoked heartfelt dialogue. While the magnitude of health inequities weighed heavily on the clinicians, researchers and educators, the atmosphere was filled with hope and determination.
Panelist Chris Stillwell, director of Student Services, summarized his thoughts: "One reason I'm up here is that I'm driven by the idea that ending oppression is not the responsibility of the oppressed. … There need to be people who [have the mantle of privilege] and who show up. When you do, the first thing you should do is listen. That goes doubly so for those of us who have a lot of privileged identities."
He concluded, "Once you've listened, partner and do something concrete. If you come to this summit next year and haven't done something concrete, I will feel like my words haven't hit strongly enough."
Resources
Shiels MS, et al. 2017. Trends in premature mortality in the USA by sex, race, and ethnicity from 1999 to 2014: an analysis of death certificate data. Lancet 389(10073): 1043–1054.
"Wisconsin's Infant Mortality For African-Americans Highest In Nation," Wisconsin Public Radio, January 5, 2018.
Mathews TJ et al. 2018. State Variations in Infant Mortality by Race and Hispanic Origin of Mother, 2013–2015. NHCS Data Brief. 295:1-7.
"U.S. Has The Worst Rate Of Maternal Deaths In The Developed World," National Public Radio and ProPublica, May 12, 2017.
Jones CP. 2000. Levels of Racism: A Theoretic Framework and a Gardener's Tale. Am J. Public Health 90(8): 1212-1215.
"For Serena Williams, Childbirth Was a Harrowing Ordeal. She's Not Alone," New York Times, January 11, 2018.
Pascoe JM et al. 2016. Mediators and Adverse Effects of Child Poverty in the United States. Pediatrics. 137(4):e20160340.
Adverse Childhood Experiences: A Robert Woods Johnson Foundation Collection.
National Academy of Medicine, 2002. Unequal Treatment: Confronting Racial and Ethnic Disparities in Health Care.
Rothstein R. 2017. The Color of Law: A Forgotten History of How Our Government Segregated America. Liveright Publishing Corp., New York, 368 pp.
Bailey ZD, et al. 2017. Structural racism and health inequities in the USA: evidence and interventions. Lancet. 389(10077):1453-1463.