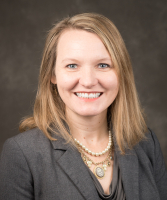 The epidemic of diabetes in the United States has reached staggering proportions: 40 percent of Wisconsin adults are expected to develop type 2 diabetes in their lifetime, and 100 M adults nationwide have diabetes or pre-diabetes. 
Dawn Belt Davis, MD, PhD, associate professor, Endocrinology, Diabetes and Metabolism, and Rene Walters (not pictured), supervisor of diabetes education at UW Health, joined Wisconsin Public Radio's Larry Meiller to discuss risk factors, dietary interventions, insulin and other medications, and diabetes-related complications. The duo also took questions from callers. 
"Long-term exposure to high glucose levels can lead to all sorts of complications," said Dr. Davis, citing complications such as eye disease, neuropathy, and amputations — but most notably, cardiovascular disease. 
"The thing that actually ends up killing most people with diabetes is heart disease and stroke," she said.
Resources: