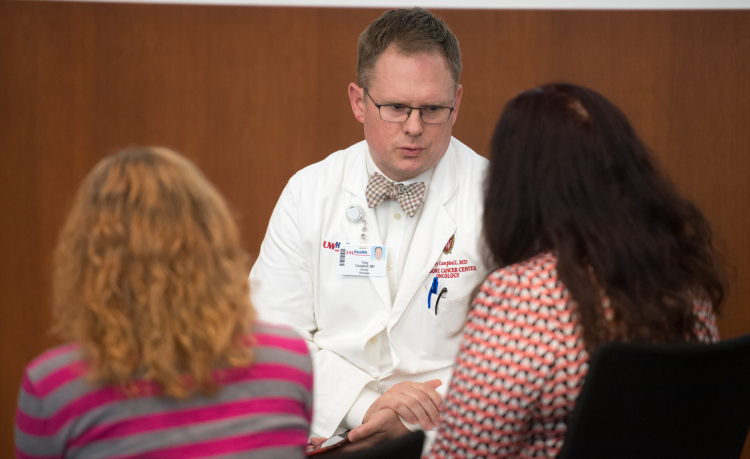 Last spring, the Wisconsin Foundation and Alumni Association (WFAA) and Wisconsin Medicine ran Healthcare Heroes, a campaign in which they asked patients who had received care from a UW Health provider in the preceding year if they would be willing to share a message of gratitude with their provider. 
Over 130 Department of Medicine providers were recognized through this initiative. Here are a few examples of the stories shared by patients: 
"Although it was nearly 8 years ago, both Brenda Muth and Jen Turk provided first class care after my kidney transplant. They exhibited a great deal of knowledge, compassion and kindness when my kidney was deemed a "sleepy" kidney for 7 or 8 challenging weeks. They worked very well as a team and most certainly represent the best and the brightest that UW Health has to offer! THANKS AGAIN for your outstanding efforts and hope both of you are doing well!"
"Dear Dr. Schnell, I just want to thank you for your sincere approach to my health care. You take the time to really listen to my concerns and I really appreciate that about you. Your attentiveness makes me feel that you are making the best-informed decisions for me as an individual."
"Dr. Callander has been treating me for 6 years for multiple myeloma. I've been in complete response for almost 3 years. She's always warm and positive and I leave her office always feeling relieved and hopeful for my future. I know she has my back. Dr. Callander always has a plan if I should need it and has given me my life back. I will always be grateful for her."
"I am so thankful for Dr. Mattison and his whole team for the care they have given to me for the last 2 1/2 years. I truly believe I wouldn't be here if it weren't for all of them!"
From words to giving
Philanthropic gifts accompanied many of those messages of thanks. The gifts help support research, educational initiatives, faculty positions, patient care and more.  
"Patients who are grateful for the care they receive might look for other ways to express that gratitude," notes Pete Schmeling, CFRE, senior director of development for the Department of Medicine. "They might not know philanthropy is an option, or they might not know how to go about giving."
While large campaigns like Healthcare Heroes do help facilitate grateful patient giving, so can individual, trusting relationships between patients and their providers. 
"If you are in a position to give, you want to do so in a way that benefits other people," says Toby Campbell, MD, MS, professor and Ellen and Peter O. Johnson Chair in Palliative Care, Hematology, Medical Oncology and Palliative Care. "Realizing this has made me more comfortable connecting patients to development opportunities. If they say something along the lines of 'If there's anything I can do to help,' it may be appropriate to ask whether they are looking for an opportunity to make a gift. By doing that, you're simply opening the door to another way for your patient to express their gratitude." 
From there, he explains, the next step is to connect the patient with a member of the Department of Medicine philanthropy team:
Pete Schmeling at 608-354-9388, pete.schmeling@supportuw.org (Endocrinology, Gastroenterology and Hepatology, General Internal Medicine, Geriatrics, Hematology, Medical Oncology and Palliative Care, Hospital Medicine, Infectious Disease)
Deshawn McKinney at 608-419-8100, deshawn.mckinney@supportuw.org (Nephrology, Allergy, Pulmonary and Critical Care, Cardiovascular Medicine, Rheumatology) 
Banner: Toby Campbell, MD, MS, models careful conversation with patients. (Credit: Clint Thayer/Department of Medicine)