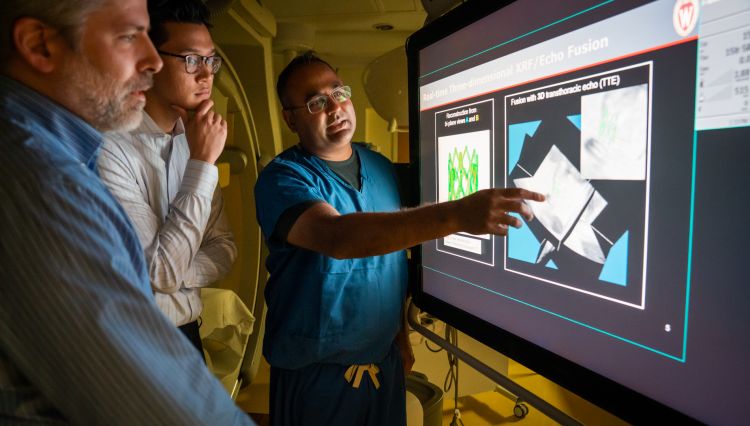 This summer, 19 University of Wisconsin-Madison Department of Medicine faculty members from seven divisions mentored 25 UW School of Medicine and Public Health (SMPH) students in the Shapiro Summer Research Program.
In the program, students collaborate with faculty mentors for an eight- to 10-week, hypothesis-driven project. Topics span a range of scientific investigation, including basic science, clinical, translational, health services, global health, public health, quality improvement and medical ethics.
Below are profiles of several representative projects from this year's program.
Critical Thinking for Clinical Problems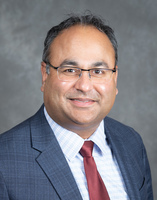 In the laboratory of Amish Raval, MD, associate professor, Cardiovascular Medicine (pictured at right), medical student Daniel Arndorfer demonstrated a previously undescribed expression of the pro-regenerative protein myeloid-derived growth factor (MYDGF) in multiple cardiac fibroblast cell lines. This discovery may contribute to further research on how MYDGF and cardiac fibroblasts work together to reduce heart tissue scar formation after a heart attack.
Another medical student, Jonathan Le, focused on an interventional cardiology imaging challenge: how to combine x-ray fluoroscopy, which is used for most interventional procedures, with ultrasound, which shows heart tissue better. Le worked with co-mentor Michael Speidel, PhD, associate professor, Department of Medical Physics, and clinicians to identify which transthoracic ultrasound views are sufficient to identify valve anatomy during transcatheter valve procedures. Their work is an important first step toward size matching and overlaying the two types of images on a single display.
"Providing research, clinical and career mentorship to students such as Dan and Jonathan is one of the greatest joys of my role at UW," reflected Dr. Raval. "The world needs talented clinician-scientists to make the important healthcare discoveries of the future. Even if a Shapiro student ultimately chooses clinical practice, I would like to think that their brief summer research experience with my team has motivated them to think a little more critically about how to test and treat their patients."
Exposure to Qualitative Research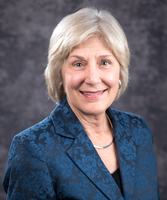 To better understand general internists' experiences with discriminatory patients, medical student Alexis Ray, with mentor Molly Carnes, MD, MS, professor, Geriatrics and Gerontology (pictured at right), and Amy Filut, a graduate student in clinical investigation at the UW-Madison Center for Women's Health Research, conducted thematic analysis of interview responses from 23 practicing general internists from AAMC-accredited institutions in the U.S.
Preliminary findings showed that physicians have seen or heard about patients exhibiting microaggressions, as well as implicit and explicit discrimination, towards physicians. Trainees are more likely than attendings to receive discriminatory remarks, interviewees said.
The impact of such remarks on physicians varied from discomfort to shock to a feeling of being "beaten down." Some physicians chose to move on, while others confronted the patient and stated that they have "zero tolerance" for discriminatory remarks. Some physicians also expressed a desire for training on how to respond in such situations, while others shared a need for more support from colleagues and the institution as a whole.
"Alexis was particularly interested in our topic since she will be a physician of color," shared Dr. Carnes. "Our project also provided an excellent opportunity to be exposed to qualitative research, which is so important to understanding the human experience, but usually excluded from the heavily quantitative medical school curriculum."
"I was inspired by the resilience of the physicians of color we interviewed," reflected Ray. "They often remained optimistic and insisted the good encounters heavily outweighed the bad, which is a quality I hope to emulate as a future physician."
Strengthening Student-Mentor Bonds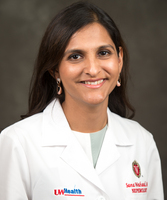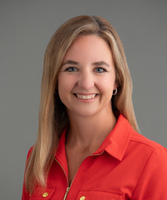 Medical student Claire Beamish, with co-mentors Sana Waheed, MD, assistant professor (CHS), Nephrology, and Laura Maursetter, DO, associate professor (CHS), Nephrology (pictured on right), sought to better understand the utility of renal biopsies in current health care practice. Despite having been widely used since the 1950s for diagnosis, prognostic assessment, and treatment identification, few large-scale studies have documented how renal biopsies are used in a modern context.
Beamish performed a two-year retrospective chart review to determine the percentage of renal biopsies that changed a diagnosis and care plan already formed on the basis of clinical presentation and laboratory results. She found that ordering physicians' differential diagnosis based on clinical presentation matched the pathologists' diagnosis in 73 percent of cases, while renal biopsies resulted in changes in management in 58 percent of patients studied.
Beamish credits Drs. Waheed and Maursetter, who were the nephrology unit course instructors in her first of medical school, for sparking her interest in the specialty and motivating her to participate in the Shapiro Summer Research Program.
"The way that [the Shapiro program] is set up is brilliant in that it creates an easy connection with students choosing areas of interest and connecting with mentors they would like to work with," echoed Dr. Maursetter. "I have found the students to be exceptional. They are devoted, hard-working, enthusiastic and inspire me to do work that I would not undertake without them."
Incorporating Basic Science Research in a Future Medical Career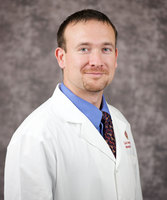 In the laboratory of Dustin Deming, MD, associate professor, Hematology, Medical Oncology and Palliative Care (pictured at right), medical students Tonela Qyli and Kristen Bischel investigated the role of versican, an extracellular matrix protein found in a variety of human issues, as a potential biomarker for breast and endometrial cancer immunotherapy.
Qyli worked with a team who stained and scored nearly 400 breast cancer tissue samples; preliminary results showed that absence of versican correlated with increased CD8+ T-cell accumulation and estrogen receptor-negative (ER-) breast cancer. This finding may provide a rationale for using versican staining and patient ER- status to predict immunotherapy response.
The experience gave Qyli new insight into the field of cancer immunotherapy, and reminded her of the importance of basic science research in bringing about those advancements. "While I had always planned on incorporating basic science research into my medical career, these past two months further solidified my desire to conduct my own research in addition to being a clinician," she said.
Bischel's team stained and scored endometrial tumor samples to investigate the role of versican proteolysis in endometrial cancer, and found that it correlated with improved CD8+ T-cell infiltration. Their results also suggested that endometrial cancer recurrence is associated with increased versican expression in both type I (estrogen-dependent) and type II (estrogen-independent) cancers.
"Although I am pursuing a degree in medicine, I recognize the importance of exploring basic science questions that underlie clinically relevant disease states," she noted. "I dream of practicing as a medical oncologist one day and thus relished the opportunity to expand knowledge in the rapidly developing field of cancer immunotherapy."
An Immersive Learning Experience
The Shapiro Summer Research Program was founded in 2002 and is supported by a generous endowment from the Herman and Gwendolyn Shapiro Foundation.
In 2019, 115 SMPH students participated in the program, according to Vera Tsenkova, PhD, Director of Student Research. Faculty mentors represented 28 departments at the SMPH and UW-Madison.
In addition to conducting mentored research projects, students also participated in research-skills training sessions, journal clubs and clinical shadowing. Each writes an abstract of their work to present at a research symposium in the spring of 2020, some present their work at regional or national scientific meetings and many prepare full manuscripts for submission to peer-reviewed journals.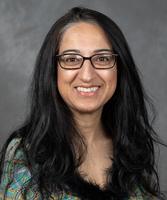 "In the Department of Medicine, we want to give medical students every opportunity to work with our faculty," noted Nasia Safdar, MD, PhD, professor, Infectious Disease, and the department's vice chair for research (pictured on right).
"We appreciate the Shapiro program because it's an immersive learning experience that enables students and researchers to form connections that are often as valuable as the research work itself," she continued.
"It also encourages students to consider pursuing a career path in internal medicine, and it provides faculty with one-on-one mentoring experience and resources to help move research projects forward."
This Year's Department of Medicine Pairings
Daniel Arndorfer (mentored by Amish Raval, MD, associate professor, Cardiovascular Medicine): Is Myeloid-Derived Growth Factor an Effector Protein from Cardiac Matrix Educated Monocytes?
Claire Beamish (co-mentored by Sana Waheed, MD, assistant professor [CHS], Nephrology, and Laura Maursetter, DO, associate professor [CHS], Nephrology): Outcomes of Renal Biopsies at University of Wisconsin Health
Leigh Berman (mentored by Dawd Siraj, MD, MPH, professor [CHS], Infectious Disease): Assessment of Knowledge, Attitude, and Hand Hygiene Compliance of Health Care Professionals and Associated Factors in Jimma University Medical Center
Kristen Bischel (mentored by Dustin Deming, MD, associate professor, Hematology, Medical Oncology and Palliative Care): Cancer Associated Fibroblasts
Joshua Bodnar (mentored by Sandesh Parajuli, MD, assistant professor [CHS], Nephrology): Outcomes of Delayed Graft Function in Elderly Kidney Transplant Recipients with a Marginal Kidney (High KDPI)
Maxwell Butler (mentored by Laura Maursetter, DO, associate professor [CHS], Nephrology): Patient Safety in Telemedicine
Andrew Carlson (mentored by Amy Kind, MD, PhD, associate professor, Geriatrics and Gerontology): Explorations in Medicare Policy: Developing a Systematic Review on Current Definitions of the Safety Net Hospital and the Use of these Definitions in Hospital Reimbursement
Jack Chovanec (mentored by Jeniel Nett, MD, PhD, assistant professor, Infectious Disease): Clinical Factors Influencing Neutrophil Function during Invasive Candidiasis
Claudia Dantoin (mentored by Dudley Lamming, PhD, assistant professor, Endocrinology, Diabetes, and Metabolism): Examining the Effects of Specific Dietary Amino Acids on Metabolic Health
Mitchell Depke (mentored by Dustin Deming, MD, associate professor, Hematology, Medical Oncology and Palliative Care): Cancer-Associated Fibroblast Engraftment to Model the Pancreatic Cancer Tumor Microenvironment in Murine Allografts
Tyler Engel (mentored by David Murray, MD, associate professor [CHS], Cardiovascular Medicine): Impact of Aggressive Transitional Care Strategies on Reducing 30-Day Readmission Rates in Veterans Hospitalized for Acute Decompensated Heart Failure
Kevin Hash (mentored by Ann Misch, MD, assistant professor [CHS], Infectious Disease): Epidemiology of Nontuberculous Mycobacteria in Wisconsin, 2011-2015
Jonathan Le (mentored by Amish Raval, MD, associate professor, Cardiovascular Medicine): Improving Imaging for Interventionalists who Perform Transcatheter Valve Procedures
Fan-Jean Liu (mentored by Gauri Bhutani, MD, clinical assistant professor, Nephrology): Novel Imaging Techniques for Kidney Volume Assessment and Prognostication in Polycystic Kidney Disease
Rosina Millevolte (mentored by Nayoung Kim, PhD, research associate, General Internal Medicine, Center for Tobacco Research and Intervention): Reach and Representativeness of Referring Primary Care Populations to Smoking Cessation and Reduction Programs via Fax & EHR
Daniel Montes (co-mentored by Sana Waheed, MD, assistant professor [CHS], Nephrology, and Laura Maursetter, DO, associate professor [CHS], Nephrology): Assessing Complication Management Protocols of Kidney Biopsies at the University of Wisconsin Hospital
Tonela Qyli (mentored by Dustin Deming, MD, associate professor, Hematology, Medical Oncology and Palliative Care): Versican and its Proteolysis as a Biomarker of CD8+ T cell Infiltration in Human Breast Adenocarcinoma
Shruti Rajan (mentored by Ryan Westergaard, MD, PhD, MPH, associate professor, Infectious Disease): Novel Strategies for Prevention Service Coordination for Drug-Utilizers in Rural Communities
Alexis Ray (mentored by Molly Carnes, MD, MS, professor, Geriatrics and Gerontology): Exploring Discrimination Against Physicians of Color by Their Patients
Samantha Shapiro (mentored by Luigi Puglielli, MD, PhD, professor, Geriatrics and Gerontology): Assessing the Role of ATG9A/FAM134B Interactions in Aging-Associated Reticulophagy
Emily Sheveland (mentored by Jeniel Nett, MD, PhD, assistant professor, Infectious Disease): O-mannosylation of C. auris and its Role in Neutrophilic Evasion
Aniruddha Srivastava (mentored by Sandesh Parajuli, MD, assistant professor [CHS], Nephrology): Serum Albumin Levels Prior To Kidney Transplant Predicts Posttransplant Infections
Taylor Stewart (mentored by Amye Tevaarwerk, MD, associate professor [CHS], Hematology, Medical Oncology and Palliative Care): Re-designing Survivorship Care Plans to Better Address Primary Cancer Information Needs
Alyssa Valentyne (mentored by Aurora Pop-Vicas, MD, MPH, assistant professor [CHS], Infectious Disease): Reducing Surgical Site Infection in Colon Surgery: Comparison of Cefoxitin versus Cefazolin/Metronidazole Preoperative Antibiotic Prophylaxis
Kelsey Wartgow (mentored by Dawn Belt Davis, MD, PhD, associate professor, Endocrinology, Diabetes and Metabolism): Pharmacotherapeutic Potential of Cholecystokinin-A-Receptor Agonist in Protecting Human Pancreatic Islets Against Transplantation-Induced Apoptotic Stress in Hyperglycemic Host
Photo caption: Medical student and Shapiro Summer Research Program participant Jonathan Le (center), along with co-mentors Michael Speidel, PhD (left), and Amish Raval, MD (right), evaluate ways to potentially combine x-ray fluoroscopy and ultrasound imaging for interventional cardiology procedures. Le was one of 25 medical students mentored by Department of Medicine faculty in this year's program. Credit: Clint Thayer/Department of Medicine