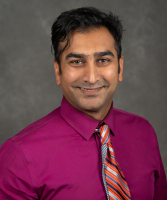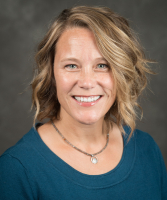 Although people with advanced kidney disease known as end-stage renal disease (ESRD) have life-limiting illness, they receive hospice care far less often (27 percent in 2012) compared to patients with cancer (60 percent), chronic obstructive pulmonary disease (39 percent) and dementia (48 percent). 
An editorial in JAMA Internal Medicine authored by R. Allan Jhagroo, MD (pictured at upper right), assistant professor (CHS), Nephrology, Kathryn (Kate) Schueller, MD (pictured at lower right), clinical assistant professor, Hematology, Medical Oncology and Palliative Care, and Gretchen Schwarze, MD, MPP (not pictured), associate professor, Department of Surgery discussed a study on the topic that was published by researchers in Massachusetts, Washington, and California. 
"Patients receiving hemodialysis do not receive the kind of end-of-life care that others with terminal illness regularly benefit from and that many Americans say they would prefer," wrote the authors.
Even more concerning: among the 41.5% of patients receiving hemodialysis who used hospice services, this care was received for 3 days or less.
The authors noted that factors potentially playing into this situation can include policies requiring withdrawal from hemodialysis before receiving hospice care, and an inherently challenging illness trajectory with complications and partial recoveries that make it difficult for patients and families to recognize the likelihood of imminent death.
It would make more sense, the authors advocate, to provide palliative care to patients with ESRD when hemodialysis treatment begins. "[Doing so] would promote goal-concordant treatment decisions, support advance care planning, and help to address patients' end-of-life care needs as their condition declines over time," they wrote.
Resources: