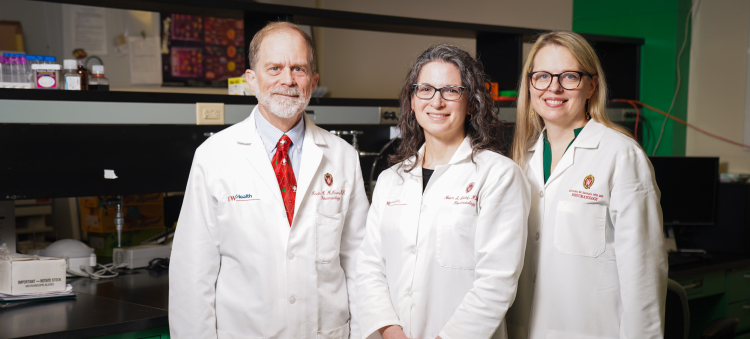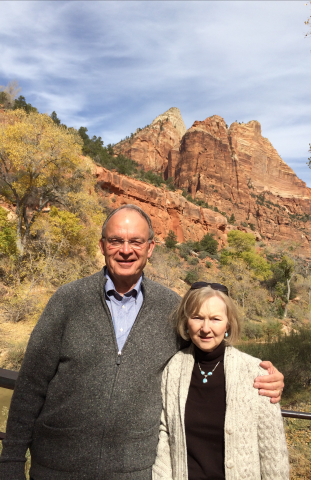 Fond memories of the University of Wisconsin–Madison, coupled with a strong desire to support rheumatology research and education, have inspired Dr. William and Mrs. Betty Yount, pictured at right, to establish a planned gift in the Division of Rheumatology in the UW–Madison Department of Medicine.
A nationally acclaimed immunologist and rheumatologist, Dr. Yount is the Reeves Distinguished Professor Emeritus of Medicine, Microbiology and Immunology at the University of North Carolina (UNC) School of Medicine in Chapel Hill, North Carolina. 
Recently retired after 49 years of service to UNC, Dr. Yount founded its Department of Medicine's Division of Rheumatology, Allergy and Immunology, plus associated laboratories in clinical immunology and immunopathology, and fellowships in rheumatology and allergy. 
His life and education, however, are rooted in Madison. Raised in the Nakoma neighborhood, the West High School graduate earned his bachelor's degree in medical science from UW–Madison in 1957—during which time he also rowed for the varsity crew—and earned his medical degree from the University of Wisconsin Medical School, as it was then known, in 1960. 
Dr. Yount went on to complete an internal medicine residency at Massachusetts General Hospital, a fellowship in immunology at Harvard Medical School and a tour of duty in the United States Public Health Service. He then applied to be an immunology investigator at Rockefeller University, and was as an assistant professor there for five years before joining the UNC faculty in 1970. 
Reflecting on his and Betty's decision to bequest a gift to UW–Madison, Dr. Yount explains, "We decided we wanted to support the academic institutions that have permitted me my career. And of course, the University of Wisconsin was key in this decision. I still wear the watch that they gave me when I was a junior medical student for being first in my graduating class."
A Personal Connection to Rheumatology
Beyond their connection to UW–Madison, or even the discipline of rheumatology, the Younts have a deeper reason for their bequest: Betty Yount has struggled with rheumatoid arthritis for over 40 years.
Throughout her adult life, Betty, a nurse with a master's degree in psychiatric nursing, has managed the disease with medications, and has had multiple surgeries to remain ambulatory.
"We know a lot about immune mechanisms, and we know a lot of ways to intervene," Dr. Yount says of rheumatoid arthritis. "But if we could eliminate the disease, that would be my dream. It's tough to live with a chronic illness."
"It seemed to us that [a bequest to] research and education in rheumatology would fit very well with Betty's battling against rheumatoid arthritis, and my lifelong consultation and teaching in the rheumatic diseases," he continues.
Recognition of Alma Mater
Today, Betty uses her skills and experience to lead a grief sharing program at her church and gives lectures on coping with chronic illness. 
Dr. Yount, who in 2012 received an Alumni Citation Award from the Wisconsin Medical Alumni Association at the UW School of Medicine and Public Health, continues to stay active in academics. He most recently completed a review article on the immunobiology of the immunoglobulin G (IgG) subclasses and their relevance to IgG4-related disease. 
And while he is proud that the division he created at UNC has prospered and grown to now include a partner organization, the Thurston Arthritis Research Center, he is equally enthusiastic about supporting his alma mater. 
Simply stated, "I really owe my whole career to my medical education at the University of Wisconsin," he affirms.
"On behalf of the Division of Rheumatology, I'm so grateful to Dr. and Mrs. Yount for their generosity in establishing this bequest," reflected Kevin McKown, MD, then division chief, Rheumatology. [Editor's note: Dr. McKown retired on July 1, 2020.]
"It will provide much-needed support to help us advance research and education on rheumatoid arthritis, a chronic disease that affects over 1.3 million U.S. adults, and related diseases of the rheumatic system," he said. 
"Planned gifts like this one are so special," added Pete Schmeling, managing senior director of development. "I'm always inspired by generous individuals like the Younts who make these types of commitments. This amazing gift will help strengthen rheumatology research and education here at UW for generations to come."
Banner image: Division of Rheumatology faculty, from left: Kevin McKown, MD, retired division chief; Miriam Shelef, MD, PhD, assistant professor; Christie Bartels, MD, MS, associate professor. Photo credit: Clint Thayer/Department of Medicine.
Body image: Dr. William and Mrs. Yount, personal photo.