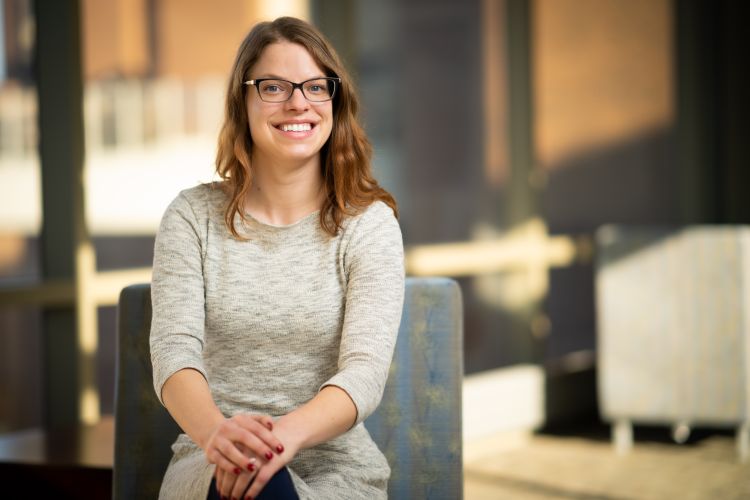 "Everything is about trying to enroll patients and making it as convenient for them as possible."
For Kendra Haight, BSN, RN, associate clinical nurse specialist, Infectious Disease, that one sentence describes her role in a nutshell. 
Haight coordinates several clinical trials led by Nasia Safdar, MD, PhD, professor, Infectious Disease. Those trials are evaluating ways to prevent and treat health care-associated infections, such as recurrent C. difficile, and reduce the burden of multi–drug-resistant organisms. 
Learn more about Haight, her work and her interests in the Q&A below.
Q: How Did You Get Into This Field? What or Who Inspired You To Pursue This Profession?
I first heard about clinical research in middle school, when my mother was in a Phase II clinical trial for cancer. I kind of "fell" into nursing, and found I was really drawn to research. 
After graduating [from the UW-Madison School of Nursing], I was really lucky to find that there was a Phase I clinical research unit in Madison. I worked in industry for about five years before coming to the Department of Medicine in 2017.
Q: What Does a Typical Day Involve?
My overall job is to recruit patients into Dr. Safdar's Phase II and Phase III clinical trials. We have four different studies aimed at preventing or treating recurring C. difficile infections.
My morning is usually spent doing chart review to identify patients who might meet the criteria for our studies. For each patient, I first consult with a study physician to make sure they are medically eligible to participate. 
Then I confirm with their clinical care team that the study is appropriate based on their other health issues. For example, a patient taking oral vancomycin would need to stop taking that drug to be part of the study. After that, I approach the patient to see if they are interested in study participation.
If so, I schedule the patient for their study visit, and when they come in, get their formal consent to join the study, reconfirm all inclusion and exclusion criteria and carry out all site- and study-specific procedures. This can include medication dosing, stool sample collection, vital signs checks and safety monitoring. I also coordinate all required follow-up visits, in person and/or via phone. 
We have a three- to four-person team who work on each study at any given time, but we try to have one primary contact for each patient because it's easier for them. 
I also coordinate some of the regulatory aspects of the trial: institutional review board submissions, protocol reviews, study documentation and visits from outside monitors.
Q: What Do You Think Are Important Skills or Qualities To Have for This Area of Work?
You really have to be flexible with your schedule. Everything is about trying to enroll patients and making it as convenient for them as possible.
Attention to detail is critical, because there are many regulations you have to follow, from international regulations on conducting research, to Food and Drug Administration regulations, to UW Health and UW-Madison policies. 
Communication is also important, because you're working with patients (who may have low health literacy), attending physicians and surgeons, staff at funding agencies and collaborators at other sites.
I really enjoy that I'm constantly learning, and that everybody at UW is so pro-research. It's a wonderful environment to be in.
Q: What Interests or Hobbies Do You Have Outside of Work?
I'm always playing some sort of sport. My favorite is softball; I play it four to five nights per week in the summer. I also love watching sports. My life goals are to see the Badgers in every Big 10 stadium and the Packers in every NFL stadium. 
I love animals, especially my dog, Nyla, a Nova Scotia Duck Tolling Retriever. I also like to make costumes and go to anime conventions. Halloween is my favorite holiday by far! 
Q: If You Were Granted a "Magic Wish" and Could Do Anything in the World for One Day, What Would It Be?
My personal wish is to watch the U.S. men's soccer team win the World Cup, in a country that has a warm ocean and beach I could go to afterwards, but I don't think it's going to happen in my lifetime! 
My work-related wish is to have enough patients enrolled for all of our trials. Nearly every clinical trial struggles with recruitment, and anything providers and patients can do to facilitate that process is incredibly appreciated. The more people who hear about our studies, the more we can hopefully change practice and improve health care for everybody. 
Banner image: Kendra Haight, BSN, RN, an associate clinical nurse specialist in the Division of Infectious Disease, coordinates Dr. Nasia Safdar's clinical trials on prevention and treatment of recurrent C. difficile. Photo credit: Clint Thayer/Department of Medicine.
Resources
Editor's note: Behind the Scenes articles tell the stories of staff members in the Department of Medicine, offering a glimpse into the roles, responsibilities, challenges, and joys that they encounter every day. Have a suggestion for a person or job that you think we should cover? Contact us.