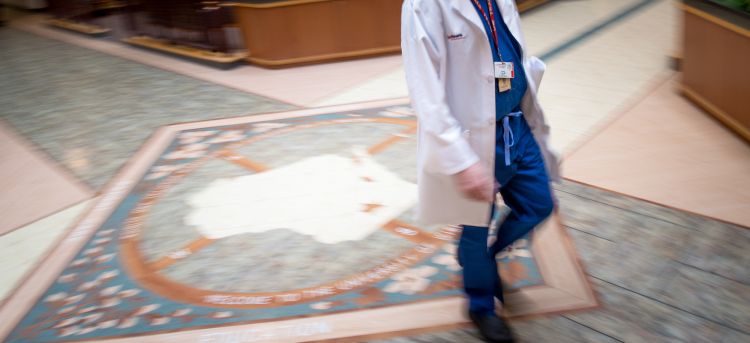 Seventy-six current and former faculty members in the Department of Medicine have been named to the Best Doctors in America® List for 2017-2018.
The Best Doctors in America List comprises four percent of physicians in the US. It is developed through a peer recommendation system in which current physician list members respond to the question, "If you or a loved one needed a doctor in your specialty, to whom would you refer?" Best Doctors, Inc. evaluates the review results and verifies all additional information to meet detailed inclusion criteria.
The list is audited and certified by auditors with Gallup, Inc. Best Doctors, which was recently acquired by Telladoc, Inc., works with expert physicians from the list to offer consultation services to 30 million members worldwide who are employed by subscribing companies or organizations.
Department of Medicine Faculty Members - 2017-18 Best Doctors in America List
Allergy, Pulmonary and Critical Care Medicine
Dr. Robert F. Lemanske, Jr.
Dr. Douglas B. Coursin
Dr. William Ehlenbach
Dr. Nizar N. Jarjour
Dr. Kenneth Casey
Cardiovascular Medicine
Dr. Ford Ballantyne III
Dr. Steven M. Ewer
Dr. Michael Field
Dr. Giorgio Gimelli
Dr. Mohamed Hamdan
Dr. Craig T. January
Dr. Heather Johnson
Dr. Maryl R. Johnson
Dr. Douglas E. Kopp
Dr. Richard L. Page
Dr. Peter S. Rahko
Dr. Amish N. Raval
Dr. James Howard Stein
Dr. Charles Stone
Endocrinology, Diabetes and Metabolism
Dr. Vincent Cryns
Dr. Diane Elson
Gastroenterology and Hepatology
Dr. Patrick Raymond Pfau
Dr. Mark Reichelderfer
Dr. Arnold Wald
Dr. Michael R. Lucey
Dr. Adnan Said
General Internal Medicine
Dr. Michael C. Fiore
Dr. Joan Addington-White
Dr. Lorna Belsky
Dr. Deborah Boushea
Dr. Juanita Halls
Dr. Peter B. Idsvoog
Dr. Lisa M. Kaufman
Dr. Peter D. Newcomer
Dr. Marion Eugene Pruitt
Dr. Pamela Ryan
Dr. Ann Marie Schmidt
Dr. Christine S. Seibert
Dr. Jeremy P. Smith
Dr. Elizabeth R. Trowbridge
Dr. Scott R. Wilson
Dr. Laura Jean Zakowski
Dr. James M. Sosman
Geriatrics and Gerontology
Dr. Sanjay Asthana
Dr. Steven R. Barczi
Dr. Neil C. Binkley
Dr. Elizabeth N. Chapman
Dr. Robert J. Przybelski
Dr. Kathleen E. Walsh
Hematology, Medical Oncology and Palliative Care
Dr. Mark R. Albertini
Dr. Howard H. Bailey
Dr. Mark E. Burkard
Dr. Natalie Scott Callander
Dr. Toby C. Campbell
Dr. Dustin A. Deming
Dr. Mark Juckett
Dr. Glenn Liu
Dr. Walter L. Longo
Dr. Sam J. Lubner
Dr. Douglas Gordon McNeel
Dr. Daniel L. Mulkerin
Dr. Ruth O'Regan
Dr. H. Ian Robins
Dr. Eliot C. Williams III
Hospital Medicine
Infectious Disease
Dr. David R. Andes
Dr. Christopher Crnich
Dr. Barry C. Fox
Dr. Gregory Gauthier
Dr. Dennis G. Maki
Dr. Nasia Safdar
Dr. Bennett Vogelman
Nephrology
Dr. Micah R. Chan
Dr. Arjang (Aji) Djamali
Dr. Alexander Yevzlin
Rheumatology
Photo credit: Clint Thayer/Department of Medicine