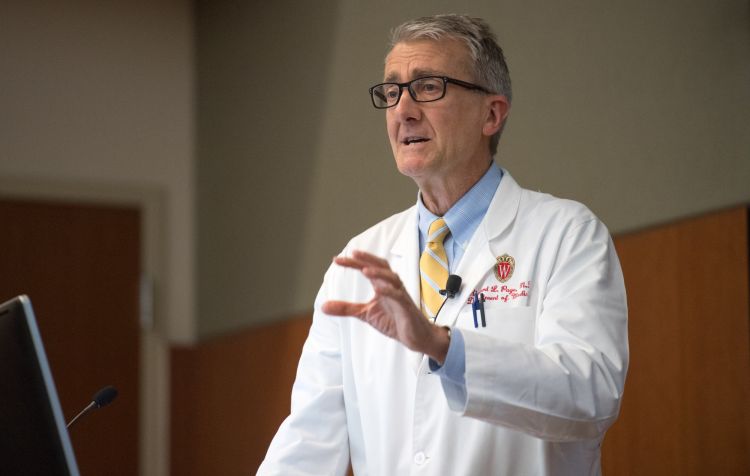 On May 4, 2017, members of the Department of Medicine gathered in person and (via live-streamed video feed) virtually for the annual departmental Town Hall meeting. Richard Page, MD, George R. and Elaine Love Professor and chair, Department of Medicine, gave an update on departmental activities and recognized five staff members for Outstanding Performance Awards.
With 397 faculty members, the Department of Medicine remains the largest academic department in the University of Wisconsin System. Of note: across the three appointment types (tenure-track, clinical health sciences (CHS) track, and clinical track), an equal ratio of men and women currently exists at the assistant professor level, and a slight majority (52 percent) of tenured associate professors are women.
The department's focus on fostering philanthropy—an important source of support during a time of rapid change for academic medical centers—has been effective. Philanthropic support in calendar year 2016 was $4.46M, up from less than $1M in 2014. These funds directly support the academic missions of the department.
Dr. Page also provided a brief update from the William S. Middleton Memorial Veterans Hospital, a key partner for medical education and a practice location for many department members. The Madison VA is a "triple threat" in national rankings, since it is in the top 10 percent of all VA facilities in the US for quality and safety, patient satisfaction, and access to primary care and mental health.
All missions of the department are flourishing:
In education, 37 SMPH students chose internal medicine as a specialty last year (up from 20 the previous year), helping to close a national shortage in the field. Internal Medicine residents continued extraordinary success on the In-Training Exam. With a three-year pass rate of 99 percent, the residency program is tied for the highest pass rate among 100 university internal medicine programs nationally.
The department's research grant FY2016 portfolio exceeds $90M—the result of a staggering 1,058 grant proposal submissions by principal investigators over the past two years.
A robust clinical workforce of 209 declared-effort full-time equivalent (FTE) clinical faculty and 115 Advanced Practice Providers were responsible for 401,303 UW Health ambulatory patient encounters in FY2016.
Next, members summarized the draft five-year strategic plan, which is taking shape as the previous plan ends its lifecycle. Dr. Page noted slight revisions to the mission, vision, and values of the department. These include affirmation of the paramount importance of professionalism, patient-centeredness, diversity and inclusion.
MISSION (Our purpose)
The Department of Medicine advances the health of the people of Wisconsin and beyond through high quality, patient-centered care, innovative research and education of the next generation of physicians.
VISION (What we want to achieve)
The Department of Medicine will be the national leader in:
High quality patient-centered care
Transformational research
Innovative education programs
VALUES (The ideals that we live by)
The physicians, advanced practice providers, other clinicians, researchers, educators and staff of the Department of Medicine value professionalism, patient-centeredness, respect, compassion, innovation, discover, inclusion, diversity, teamwork, scholarship, and stewardship.
PROFESSIONALISM as demonstrated by honesty, integrity, inclusivity, accountability, fairness, altruism and treating everyone with kindness and compassion
PATIENT-CENTEREDNESS as the core of everything we do and we demonstrate this by highly satisfied patients and families all of the time
RESPECT for all others, for who they are and what they do
DISCOVERY, INNOVATION and SCHOLARSHIP as leaders in research, patient care and education
DIVERSITY and INCLUSION as essential components in all our missions
TEAMWORK, as we are more effective together than as individuals
STEWARDSHIP of our resources as this will allow us to sustain our mission
Based on a strengths, weaknesses, opportunity, and threats (SWOT) analysis by staff and faculty members, the draft plan prioritizes areas of attention or growth. "This doesn't imply that areas not included in the plan aren't supported or important, though," said Dr. Page. "In many cases, activities that we prioritized in the last 5-year plan have become operationalized and are now part of what we do on a day-to-day basis. We'll keep doing them."
The five strategic priorities in the draft plan are summarized below. To volunteer for a task force for any area or to request additional details, click here)
Invest in Members, presented by Sheri Lawrence, MBA, department administrator, and Jeremy Smith, MD, assistant professor (CHS), General Internal Medicine. This prioritizes professional and academic development for all members, including staff, across all career stages.
Patient Experience, presented by Mark Juckett, MD, professor (CHS), Hematology, Medical Oncology and Palliative Care, vice chair for clinical affairs and quality, and Elizabeth Trowbridge, MD, clinical professor and head, General Internal Medicine and associate vice chair for primary care. Aligning closely with the draft UW Health strategic plan, this focuses on patient-centered programs to improve areas such as access to care, value-based care, and quality and safety.
Education, presented by Bennett Vogelman, MD, professor (CHS), Infectious Disease and vice chair for education. This aims to foster the growth of learners and educators to advance the department's mission of teaching and learning.
Research, presented by Nasia Safdar, MD, PhD, associate professor, Infectious Disease and vice chair for research. This will enhance the depth and breadth of the department's research impact with a focus on team science, big data, developing a pipeline of future researchers, and ensuring continued success in areas of strength.
Climate, presented by Dr. Page. This refers to organizational climate (properties and experiences of a workplace to which colleagues attach meaning), which interrelates with organizational culture (shared assumptions about the values that guide life in organizations). The area prioritizes a work environment where employees and learners feel appreciated, and which supports wellness and sustained job satisfaction.
A lively Q&A session followed, with department members offering both candid opinions and enthusiasm for the future. Dr. Page encouraged everyone to become involved in further fine-tuning of the plan and developing discrete tactics. "This isn't finalized yet. We need your feedback and involvement," he said.