Ravi Dhingra, MD, MPH | Advanced Heart Disease and Transplant
Ravi Dhingra, MD MPH, is a physician-scientist whose research focuses on clinical outcomes in patients with varying left ventricular ejection fractions. This includes patients with restrictive heart disease (such as sarcoidosis or hypertrophic cardiomyopathy) and patients with end-stage heart failure who require mechanical devices or heart transplantation.
Identifying Biomarkers for Poor Prognosis Before Heart Transplantation
Patients with ongoing frailty have a poor prognosis after cardiac surgery, and more specifically after heart transplantation. Dr. Dhingra's research focuses on identifying key biomarkers—serum, functional, histologic or imaging—that can precisely identify a person at risk for poor prognosis prior to cardiac transplantation.
His current research projects involve:
Evaluating pre-transplant biomarkers of frailty
Appropriate selection criteria for dual-organ transplants among patients with multi-organ dysfunction
Characteristics of heart donors and factors that influence appropriate matching during heart transplantation
Image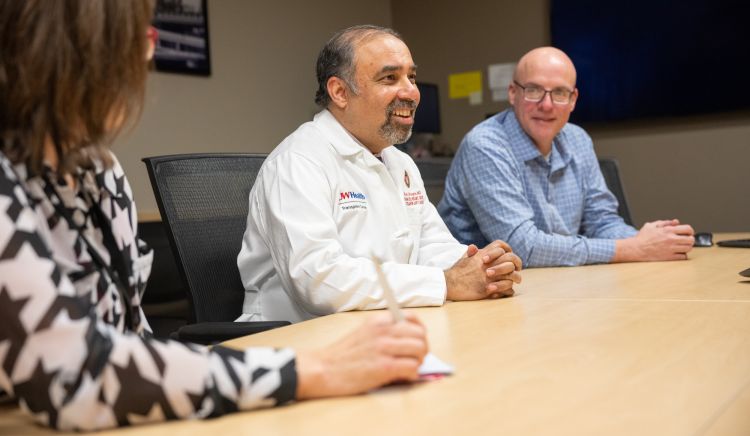 Image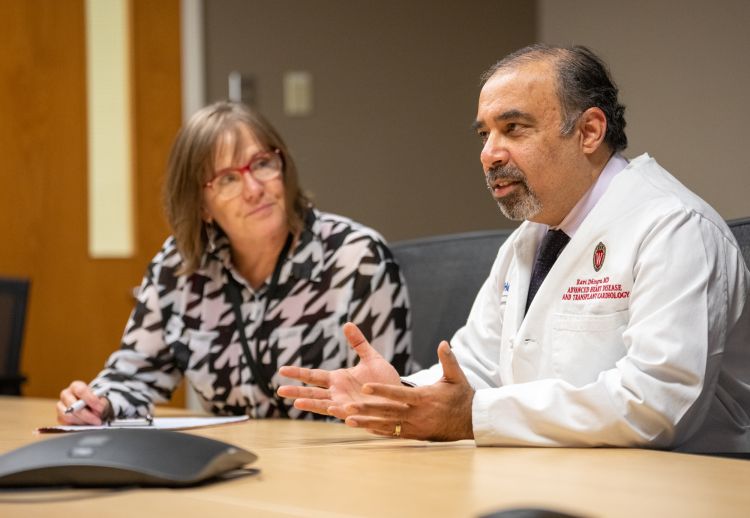 Examine the Biomarkers Associated with Frailty Among Patients with Advanced Heart Failure
In this project, Dr. Dhingra studies the impact of donor and recipient matching, including patients with high pulmonary vascular resistance, on patient survival after heart transplant. He also investigates the relationship between preserved, mid-range and reduced ejection fraction heart failure with kidney dysfunction and clinical outcomes.
Anthem HFrEF
ANTHEM-HFrEF is a multi-center, open-label, randomized controlled clinical trial with an adaptive design. Patients with symptomatic heart failure and reduced LVEF will be enrolled and randomized 2:1 to receive VITARIA system implantation on the right cervical vagus nerve in addition to stable guideline-directed medical therapy (therapy), or to continue receiving stable guideline-directed medical therapy alone (control arm).
PARAGLIDE-HF
This is a a multicenter, randomized, double-blind, double-dummy, parallel group, active controlled study to evaluate the effect of sacubitril/valsartan (LCZ696) versus valsartan on changes in NT-proBNP, safety, and tolerability in HFpEF patients with a WHF event (HFpEF decompensation) who have been stabilized and initiated at the time of or within 30 days post-decompensation.
SHORE
This is an observational registry to assess the clinical utility of surveillance using HeartCare testing services, in association with clinical care of heart transplant recipients.
INTERMACS
This is an interagency registry for mechanically assisted circulatory support.
TEAMMATE (Technology Enabled and Molecular Monitoring of the Allograft and Transplant rEcipient)
The primary purpose of this study is to evaluate the impact of AlloCare mHealth remote monitoring on the early post-transplant period, as part of post-transplant monitoring. The AlloCare App is a free smartphone-based app that allows transplant patients to manage their health by enabling them to adhere to and track their health activities and communicate with their care team & community.
DAPA ACT-HF
This study is a multicenter, randomized, double-blind, parallel group, placebo-controlled trial to evaluate the effect of in-hospital initiation of dapagliflozin on clinical outcomes in patients with heart failure with reduced ejection fraction who have been stabilized during hospitalization for acute heart failure.