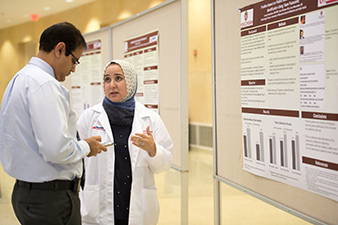 The Department of Medicine Education Committee will provide up to $5,000 to support faculty, staff, trainees, and post docs who are in need of funding for professional development. We will consider requests that will result in improved or enhanced education of our learners.
Examples of requests we will consider include:
Travel expenses to attend a scholarly meeting not supported by Division Funds
Travel expenses to attend a professional development course
Support to invite a visiting speaker where the topic is of educational value to our department's educators or learners
Who May Apply?
Department of Medicine Faculty and Staff
(With a primary appointment in the Department of Medicine)
Trainees sponsored by Department of Medicine Faculty
Post Docs sponsored by Department of Medicine Faculty
When and How to Apply
A rolling application deadline is available.  Any requests submitted by the 1st of each month will be reviewed at the next DOM education committee meeting that occurs on the third Friday of the month. Funds will be available within two weeks.
Requestor should submit:

Current CV or Resume
A 1-2 page summary of reason for request
A budget including both how and when the money will be spent
A letter of support from division head or supervisor describing how this request aligns with the requestor's career path
How Will Applications be Reviewed?
The Chair of the DOM Education Committee will assign applications for review by regular and/or ad hoc members of the committee.
The reviewer will use the criteria below, and present the application to the committee. A vote will be taken to determine appropriateness and level of funding to be provided.
The number of requests funded over the year will depend on the availability of funds.
Criteria for Review
Written, explained and organized in a way that justifies why this should be funded
Expenses clearly documented with appropriate level of detail; justification easy to follow
Describes impact on faculty development beyond funding, with good explanations about how this will occur
Justifies why this particular faculty development is of professional, departmental, or national importance
Outlines how faculty development could have the potential to improve education within our department by enhancing an existing program or building a new program
Letter of support outlines how use of funds aligns with requestor's career path