Click here for more about the city at www.visitmadison.com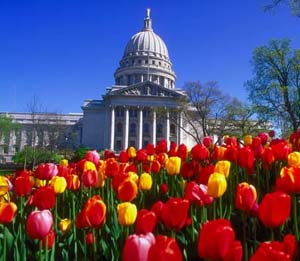 In choosing a training program, where you live is also an important factor in your decision. Madison and Wisconsin have much to offer.
Madison - the state's capital city - offers a quality of life second to none. Frequently rated among the best places to live in the United States, Madison offers a strong economy with plentiful jobs, outstanding health care and a range of cultural activities usually found only in cities far larger than this. Home to approximately 200,000 people, Madison is situated on an isthmus between the area's two largest lakes, a setting which offers impressive beauty, a compact and vital metropolitan area, and a wide range of recreational activities.
Madison's climate brings four distinct seasons with blue skies, golden leaves, clear water and sparkling snow. The city's 150 parks offer hiking trails, tennis courts, playgrounds and the free Henry Vilas Zoo. Just an hour away lie peaceful retreats among the woods, gently flowing streams and the lush valleys of southern Wisconsin. Madisonians enjoy nearby downhill ski hills, extensive cross-country ski trails, a nationally ranked trout stream and more bike trails than any other state in the nation. These qualities combine to make Madison a favorite locale for outdoor enthusiasts.
Cultural activities abound, from the summer open-air Concerts on the Square by the Wisconsin Chamber Orchestra, to theater, opera and ballet at the Madison Overture Center. Independent theater groups, including the highly acclaimed American Player's Theater in nearby Spring Green, offer year-round variety on the stage. The area hosts concerts in a range of venues, including the annual Isthmus Jazz Festival, as well as an array of night life that only a university town can offer. For those seeking an escape to the 'big city,' Milwaukee, Chicago and Minneapolis are within a few hours' drive.
Madison is economically healthy, with ample opportunities in education, government, industry, finance, health care and biotechnology. Its public school system is among the best in the country, with more recipients of the Presidential Award of Excellence than any other city in the United States. Commutes are short, the cost of living reasonable, and the crime rate low.
This is the quality of life that makes Madison a nice place to visit - and an even better place to live.