The University of Wisconsin-Madison campus hosts programs, workshops, and other resources for women in academic medicine, including:
Image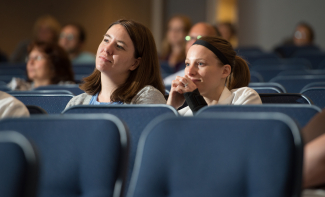 Fellowships, Institutes, Programs & Centers
Training in Women's Health
There are numerous opportunities for internists who wish to pursue enhanced training in women's health, facilitated by the strong relationship between the university and the William S. Middleton Veterans Hospital. Examples include clinical training at the Women Veterans Health Clinic, ambulatory care training in women's health at the UW Health West Clinic, and clinical training in outpatient gynecology, high risk obstetrics, student health, osteoporosis management and gastrointestinal disorders in pregnancy.
Employment and Career-Related Resources
Long considered as one of the best places to live and work in the nation (ranked #1 city in the US by Livability in 2015), Madison has a vibrant and diverse regional economy, a broad range of activities from concerts and nightlife to outdoor recreation, outstanding schools, and boasts a #13 national ranking for "Best Foodie Cities."
Madison was ranked #3 Best City for Working Women in the United States in 2015 by Forbes magazine. UW Hospitals and Clinics been ranked as one of the top 100 Employers for Working Parents by Working Mother magazine every year since 2008.
For more information, visit the Madison Regional Economic Partnership. The Greater Madison Visitors and Convention Bureau also provides resources and facts about living in Madison.