The Health Services and Care Research program offers several services to researchers at the University of Wisconsin-Madison.
Consultation
Individuals interested in conducting health services research studies may request a consultation with one of our faculty members or scientific staff on study design, analytic plan, and/or interpretation of results. To request a consultation, please contact hscr_admin@lists.wisc.edu with a brief description of the nature of your question/research needs.
Data
The HSCR Program currently has several data resources available to researchers. These data resources include the freely available Area Deprivation Index (ADI), which allows for rankings of neighborhoods by socioeconomic status disadvantage in a region of interest (e.g. at the state or national level). The ADI can be downloaded from the Neighborhood Atlas (https://www.neighborhoodatlas.medicine.wisc.edu/).
The HSCR Program also has Medicare data resources which may be used in health services research. Due to data use agreement provisions, these resources are only available to Department of Medicine researchers and affiliates. More information is available at https://kb.wisc.edu/hscr/internal/ (Department of Medicine log-in required).
Geoanalytic services
 The addition of geographic information to healthcare and other data allows researchers to investigate complex contextual factors that can influence patient outcomes, quality of healthcare and a multitude of other variables. Our services include:
Image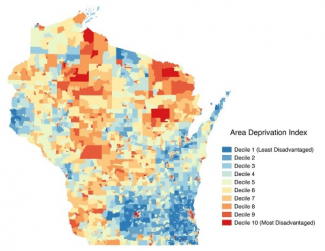 Consultation regarding geographic considerations in healthcare research
Geocoding - converting a list of addresses into geographic coordinates which can be linked to geographic units, e.g. Census block groups
Mapping
Addition of contextual factors to geographic data, e.g. demographic variables from the Census or American Community Survey;
Spatial analysis –modeling research problems geographically
To request HSCR geoanalytic services, please complete this brief form. Once your request is received, we will follow up with you directly to further discuss the details of your project, including timeline and pricing.