The Health Services and Care Research program offers geoanalytic services to researchers at the University of Wisconsin-Madison. The addition of geographic information to healthcare and other data allows researchers to investigate complex contextual factors that can influence patient outcomes, quality of healthcare and a multitude of other variables. Our services include:
Image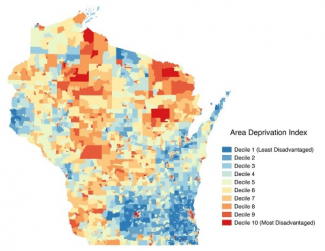 Consultation regarding geographic considerations in healthcare research
Geocoding - converting a list of addresses into geographic coordinates which can be linked to geographic units, e.g. Census block groups
Mapping
Addition of contextual factors to geographic data, e.g. demographic variables from the Census or American Community Survey;
Spatial analysis –modeling research problems geographically
To request HSCR geoanalytic services, please complete this brief form. Once your request is received, we will follow up with you directly to further discuss the details of your project, including timeline and pricing.